Highways, Byways, and Roadside Distractions
by MK McGowan
Preorders coming soon!
Sullivan Bernstein, laid off and lonely, hits the road to clear her mind and reset her priorities. After picking up a few unexpected guests and committing a few felonies, Sullivan realizes the journey is more important than the destination and, sometimes, you find love just when you stop looking.
After a disastrous audition, Alison Waverly, an actress trapped in ditzy romcom hell, flees LA. Despite money and connections, she's lost control of her life. A chance encounter on the road offers clarity and, maybe, something more. But only if she can avoid getting arrested or dragged back to Hollywood.
Two women on the road trip of a lifetime. Because, after all, when life gets to heavy, we can all use a little roadside distraction.
---
The Frequencies of Truth
by Maggie Dane
Despite graduating from the Academy with honors, nothing prepared Lt. Jordan Ransom for the challenges of serving as a comm officer on the Nemesis. Rebels, smugglers,
and strange signals from space are easy. Getting caught between two ambitious rival captains is hard. In fact, it could be deadly. Will her first assignment be her last?
---
The Pickle Jar Chronicles
by Maggie Dane
Can a spilled drink lead to true love? Karen is about to find out. A widow for five years, Karen likes her quiet, orderly, single life just fine, but her pushy friend Georgia other ideas. A chance encounter at work opens up unexpected and, not entirely welcome, possibilities. Find out what happens in this debut novella by Maggie Dane.
---

Demonology for Beginners
by M.K. McGowan
All relationships face challenges, but for Wilhelmina Harker and Lucy Drake, trouble is just beginning. Four years of marriage sees boredom creeping in. Until…
One dark and stormy night, a beautiful stranger bites Drake. From there, life takes a frightening turn as Drake comes face-to-face with deadly immortals, mad scientists, and murderous thugs. Or, as Drake learns, the family.
When Drake goes missing, Wil has to face the possibility that her wife might be turning into a vampire. Throw in a cranky police detective, Drake's infatuated colleague, and one super surly feline, and things get really interesting. When the in-laws from Hell show up, well, suddenly, boredom doesn't sound all that bad.
---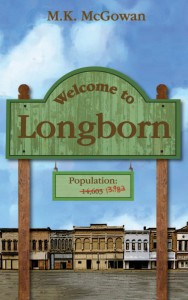 Welcome to Longborn
by M.K. McGowan
Love at first sight? Not hardly. When Darcy Fitzwilliam first meets Elizabeth Austin, the sparks fly — and not in a good way. Sent to the small town of Longborn, Texas on business, Darcy wants nothing to do with the local yokels until Elizabeth steps in and helps her with a prickly situation. It's a comedy of errors in this alternative take on a beloved classic. One that might just have Jane Austen rolling over in her grave.